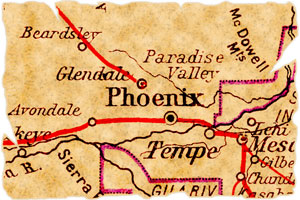 The top five industries in the metro Phoenix area are (1) real estate, (2) finance and insurance, (3) manufacturing, (4) retail trade, and (5) health care. Phoenix is home to four Fortune 500 companies, a large Intel facility, and a large military presence at Luke Air Force Base. The city is easily accessible by road and via air service to Sky Harbor International Airport. Phoenix is characterized by urban sprawl and a fairly low population density, so a rectangular grid of streets, supplemented by Interstate Highways, provides an adequate transportation infrastructure within city limits.

This Phoenix directory provides convenient access to a broad spectrum of enterprises that are located in Phoenix, Arizona. In-depth information and news about Phoenix can be found on these regional Phoenix Libraries and Phoenix Newspapers pages, respectively. Visitors to Phoenix will find this Phoenix Visitor Guide website useful.
---
Copyright © 2012-2022 Zeducorp.
All rights reserved.

Interactive Maps of Phoenix