Located near the northeastern corner of the Sonoran desert, Phoenix is the capital of Arizona and also its largest city. Originally settled in 1867 as a farming community near the confluence of the Gila River and the Salt River, Phoenix has grown to become the most populous state capital, with a population exceeding one million residents. Phoenix has a hot desert climate, with average annual precipitation of 8.03 inches and 3,832 hours per year of sunshine. Phoenix's topography, in the Salt River Valley, is fairly flat, but low mountain ranges are scattered around the valley and a few peaks lie within the valley. After World War II, the city grew rapidly, due in part to the availablity of air conditioning and low-cost housing.
Phoenix Area Map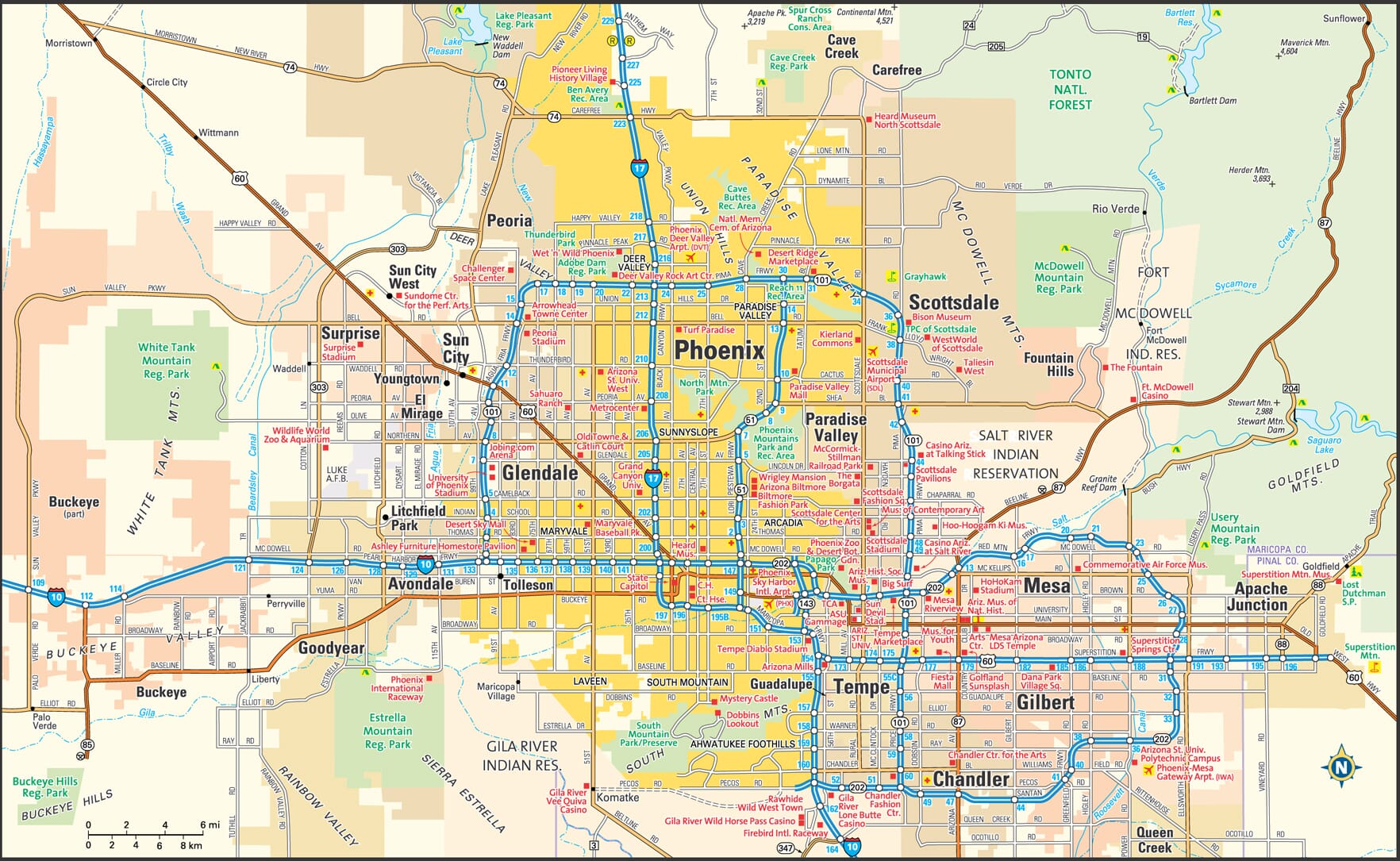 Downtown Phoenix Street Map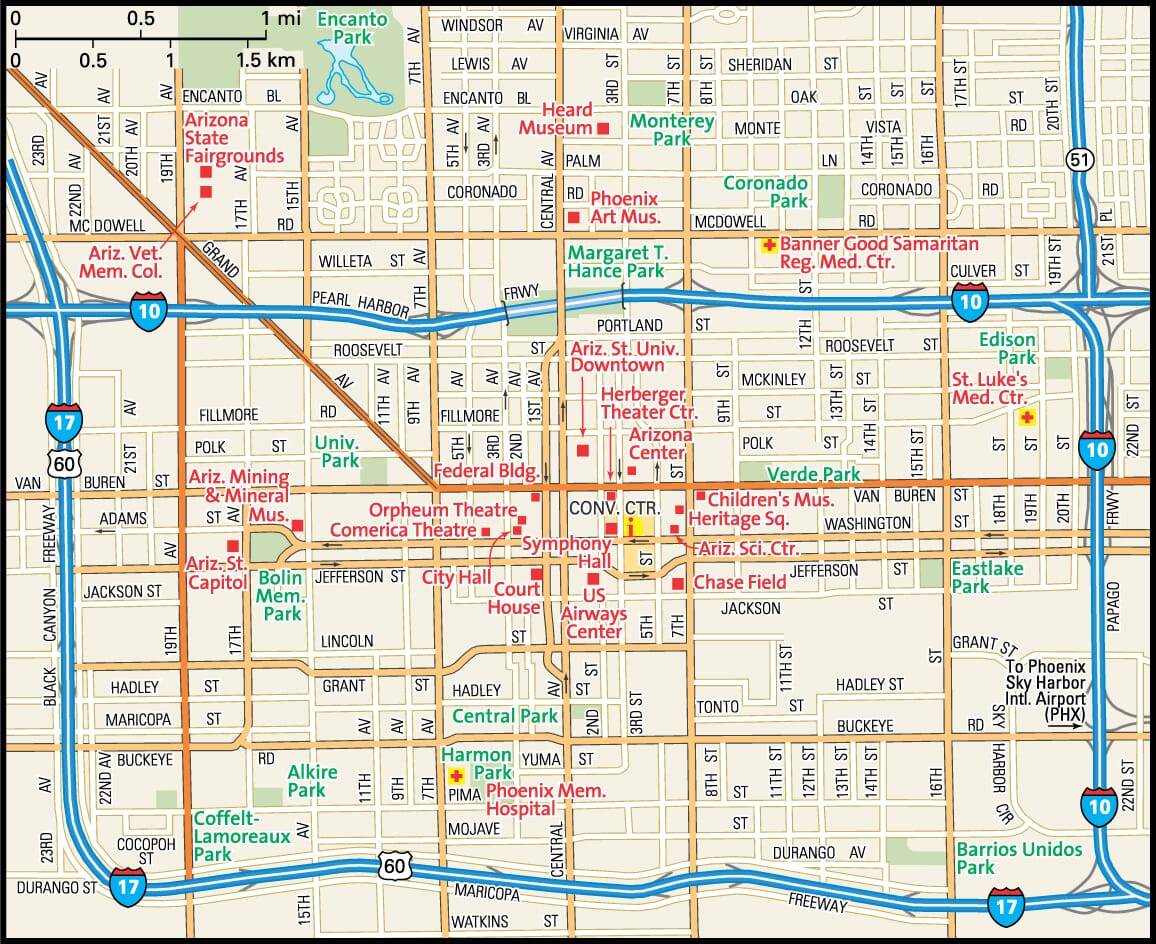 Phoenix has a fascinating architectural history. Frank Lloyd Wright moved to Phoenix in 1937, where he built Taliesen West (his winter home) and the primary campus for The Frank Lloyd Wright School of Architecture. In the ensuing years, Phoenix has attracted notable architects whose architectural studios embrace the challenges and opportunities afforded by the desert climate. The Phoenix Art Museum (designed in the late 1950s by Alden Dow, a Frank Lloyd Wright studen) hosts the southwest's largest collection of visual art.
Because of the area's warm, sunny climate, Phoenix offers a plethora of recreational activities and outdoor attractions. Golf, for example, is a top attraction in Phoenix, with more than 200 golf courses to choose from. The Phoenix Zoo is the largest privately owned, non-profit zoo in the United States. Adjoining the zoo, the Phoenix Botanical Gardens are widely acclaimed for their art and flora exhibits and educational programs, featuring the largest arid plant collection in the USA. Phoenix also serves as a hub for visits to the Grand Canyon and other Arizona attractions.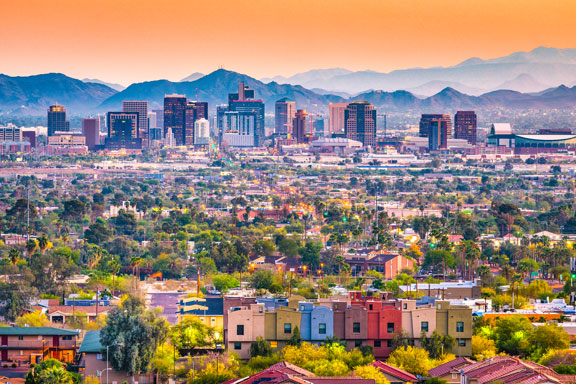 Phoenix, Arizona Cityscape at Dusk
Phoenix Information Directory
In-depth Phoenix information and news can be found on these regional Phoenix Libraries and Phoenix Newspapers pages, respectively. Visitors to Phoenix will find this Visit Phoenix Guide website useful.
---
Copyright © 2012-2023 Zeducorp.
All rights reserved.
About Us
The Phoenix area map and downtown Phoenix street map are © Globe Turner.
Map of Phoenix, Arizona